Description
---
Explore Turkey's stunning landscapes, and more importantly, unique cuisine on this 12-day adventure. Starting off with the bustling vibes and tastes of Istanbul to the Mars-like setting of Cappadocia and Konya's juxtaposition of old and new, you'll cover the multi-faceted highlights of what Turkey has to offer.
Commence your travels in Turkey's bustling hub of Istanbul and encounter the amazing sights, including the historically and architecturally brilliant Mosque of Suleyman the Magnificent. See the semi-arid region of Cappadocia, where you can explore ancient sites such as the Uchisar Castle and the Kaymakli Underground City. Board a scenic tour towards a beautiful fishing town called Eğirdir, and uncover Ephesus, one of the best preserved ancient cities in Asia Minor.
This tour is a unique opportunity you do not want to miss.
Itinerary
---
Day 1 Day 2 Day 3 Day 4 Day 5 Day 6 Day 7 Day 8 Day 9 Day 10 Day 11 Day 12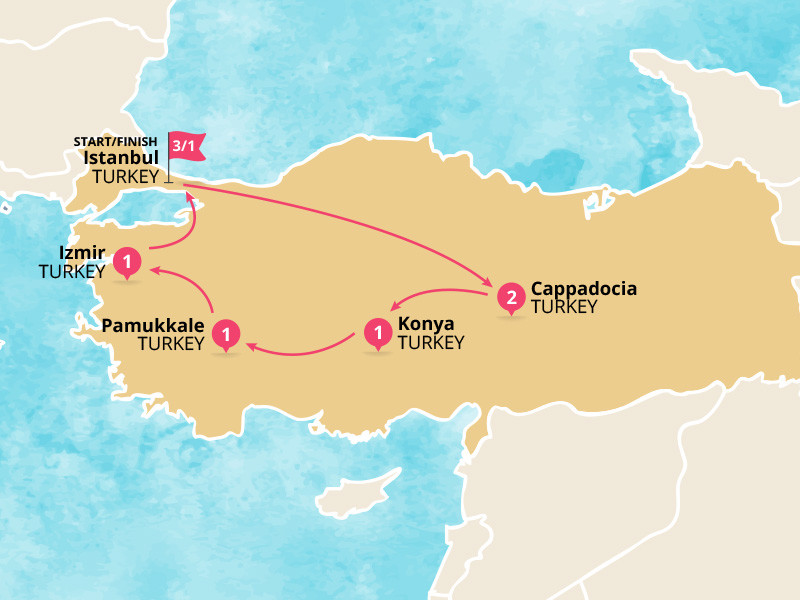 Day 1
Australia Istanbul
Today you will depart from Australia to begin your incredible Turkish adventure!
Meals included: inflight only
Day 2
Istanbul
Welcome to Istanbul. Upon arrival, a driver will be waiting to take you to your hotel and will provide you with information on the area you'll be staying in. Leave your bags with the concierge while you spend the rest of the morning and afternoon exploring the local area before check-in. Free at leisure for the rest of the day.
Meals included: inflight only
Accommodation: Movenpick Golden Horn or similar, Istanbul
Day 3
Istanbul
Kick off the morning with the perfect introductory city tour to Istanbul's history and culture. Visiting the Golden Horn, Taksim and the fishing district, you will skirt around the top attractions such as the Topkapi Palace and admire the exterior of Hagia Sophia. Next, you will ride a cable car up to the Pierre Loti Hill with sweeping views of this historical city. You will then continue your tour and visit the Mosque of Suleyman the Magnificent, the most ambitious architectural complex in the history of the Ottoman Empire.
In the late afternoon a transfer will be provided to the most vibrant area – Taksim. Enjoy free time as you wish where you can see the nearby Galata Tower. Time for dinner prior to returning to the hotel. Why not indulge in some traditional Turkish cuisine (own expense)?
Meals included: breakfast
Day 4
Istanbul
Today you will start the day with a 2-hour boat trip along the Bosphorus that divides Asian Turkey from European Turkey. The Bosphorus is a narrow, natural strait that connects the Black Sea with the Sea of Marmara. During the boat trip you will pass under the two bridges that unite Europe and Asia whilst admiring the palaces of the Sultans, typical Turkish wooden houses and the Ottoman villas.
You'll have free time in the afternoon where you can explore the Blue Mosque, shop at the Grand Bazaar or join an optional tour including lunch inside the Topkapi Palace.
Meals included: breakfast, lunch
Day 5
Istanbul Ankara Cappadocia
Today includes a pleasant 4-hour trip through the Anatolian landscapes towards the capital of Turkey (Ankara) onboard one of the most modern and fast trains in Turkey.
When you arrive in Ankara you'll have time for lunch (own expense) and then travel by bus to discover The Mausoleum of Ataturk.
You will continue your journey to Cappadocia passing through the Lake Tuz, also known as Salt Lake, the second largest lake in Turkey.
Meals included: breakfast, dinner
Accommodation: Suhan Cappadocia or similar, Cappadocia
Day 6
Cappadocia
Discover the magic of Cappadocia during this full day tour exploring lunar landscapes and fascinating ancient sites including the Uchisar Castle, Göreme Valley, Kaymakli Underground City and Gümüşler.
Begin the tour with a visit to the spectacular Göreme Open Air Museum where you will creep into rock-carved churches and chapels to view colourful ancient frescoes. Then you will visit Uchisar Castle, a natural fortress. Drive to Kaymakli Underground City, one of the best-preserved in Cappadocia. It features a maze of tunnels and rooms carved eight levels deep into the earth. The last stop will take place in the Gümüşler, an amazing underground monastery from the 7th Century with perhaps the best Byzantine frescoes in Turkey. End the day with a stopover visit to Nigde prior to returning to your hotel in Avanos. Tonight dinner is included.
Meals included: breakfast, dinner
Day 7
Cappadocia Ihlara Konya
In the morning you'll visit the Pasabag Valley, formally known as Monk Valley, with mushroom shaped fairy chimneys followed by a visit to the Ihlara Valley, known for the freshness of its waters, amazing churches and villages excavated in the rock.
You'll then continue your journey stopping at an old inn, called a Caravanserai, from the 13th Century before arriving in Konya where you'll visit the Mausoleum of Mevlana. Here you will learn about the sect of the Dervishes (entrance included).
Dinner is included and in the evening, why not cap off your day with an optional outing? The traditional Folk Dance performance of the whirling dervishes in the cultural centre.
Meals included: breakfast, dinner
Accommodation: Hilton Garden Inn Konya or similar, Konya
Day 8
Konya Egridir Pamukkale
Today you will board a scenic tour between the lakes toward a beautiful fishing town known as Eğirdir well known for its walls and mosques. You will have time for lunch before you continue to the UNESCO World Heritage Hierapolis-Pamukkale (Cotton Palace), an unreal landscape made up of mineral forests, waterfalls and a series of terraced turquoise coloured basins. You will visit the Cotton Castle (entrance included) and tonight dinner is included.
Meals included: breakfast, dinner
Accommodation: Lycus River Thermal Hotel or similar, Pamukkale
Day 9
Pamukkale Ephesus Izmir
Today you will head in the direction of Ephesus, one of the best preserved ancient cities in Ionian Asia Minor. Here you will discover the little remains of the famous Temple of Artemis, one of the "7 Wonders of the World" which drew in pilgrims from all around the Mediterranean (tickets included), the House of the Virgin Mary and the Basilica of St. John. Your trip continues to Izmir, the third most populous city in Turkey, where dinner is included.
Meals included: breakfast, dinner
Accommodation: Hilton Garden Inn Izmir or similar, Izmir
Day 10
Izmir Bursa Istanbul
This morning a guide will take you for a short visit to Izmir to tour the church of St. Polycarp, the oldest functioning church in Izmir, which is a reminder of the importance of this area since the beginning of Christianity (entry tickets included).
You will also discover the fort of Kadifekale, "The Velvet Castle", before heading through the interior of Turkey again. There will be a stopover for lunch (own expenses) before arriving at Bursa, whose historic centre has been declared a World Heritage Site by UNESCO and is the location of the outstanding Green Mosque.
Depart for Istanbul where you will arrive at the end of the day.
Meals included: breakfast
Accommodation: Movenpick Golden Horn or similar, Istanbul
Day 11
Istanbul Australia
After breakfast, you're free until your airport transfer for your homebound flight.
Meals included: breakfast and inflight
Day 12
Arrival in Australia
Meals included: inflight only
Inclusions & Exclusions
---
Inclusions
Return Economy Class Airfare from Melbourne, Sydney, Brisbane, Adelaide or Perth
Flights with Etihad Airways or Qatar (subject to availability)
9 nights hotel accommodation on twinshare basis
Meals as indicated: 9 Breakfasts, 1 Lunch and 5 Dinners
Return airport to hotel transfers
Air-conditioned coach transportation
English speaking tour leader & tour guide
City tour in Istanbul and Izmir
Boat Ride: Tour of the Bosphorus (Istanbul)
Admission to attractions on tour, such as:
- Suleymaniye Mosque & Cable car ride at Pierre Loti (Istanbul)
- Ataturk Mausoleum (Ankara)
- Goreme Valley, Kamymakli Underground City, Uchisar Valley, Gumusler Monastery, Pasabag Valley & Ihlara Valley (Cappadocia)
- Caravanserai (Aksaray)
- Mevlana Mausoleum (Konya)
- Hierapolis (Pamukkale)
- House of Virgin Mary, Basilica of St. John & Ruins of Ephesus (Ephesus)
- Church of San Policarpo & Fortress of Kadifecale (Izmir)
- High Speed Train from Istanbul to Ankara
Accommodation
Istanbul - Movenpick Golden Horn or similar
Avanos - Suhan Cappadocia Hotel & Spa or similar
Konya - Hilton Garden Inn Konya or similar
Pamukkale - Lycus River Thermal Hotel or similar
Izmir - Hilton Garden Inn Izmir or similar

All Traveldream deals are backed by a 14-day refund guarantee!
Exclusions
Meals/beverages not stated in the itinerary
Optional gratuities/tipping
Optional activities, tours and/or entrance fees
Personal Expenses
Travel Insurance (strongly recommended)
Visa(s)/Visa fee
Child Policy
No child discounts apply. A full priced voucher must be purchased for all children travelling. Children must be accompanied by a responsible adult 18 years old and over to travel. No unaccompanied minors allowed.
Departure Dates
---
Sunday 09 Jun 2019 ‐ Thursday 20 Jun 2019
Sunday 07 Jul 2019 ‐ Thursday 18 Jul 2019
Sunday 04 Aug 2019 ‐ Thursday 15 Aug 2019
Sunday 08 Sep 2019 ‐ Thursday 19 Sep 2019
Sunday 06 Oct 2019 ‐ Thursday 17 Oct 2019