Description
---
Venture into the heart of Queensland's outback on this fully escorted outback experience. Your journey begins in Brisbane when you board the Spirit of The Outback for your overnight rail to Longreach. Marvel at the changing scenery and rugged landscapes of our beautiful outback.
Explore Australia's rich heritage and gain wonderful insights into the lives of our early pioneers as well as the current local characters that call this region home. Visit the popular Australian Stockman's Hall of Fame, the Qantas Founders Museum, witness a beautiful sunset on the Thomson River cruise, experience schooling in a whole new way at the Longreach School of Long Distance Education and follow the dinosaur trail at Winton.
Itinerary
---
Day 1 Day 2 Day 3 Day 4 Day 5 Day 6 Day 7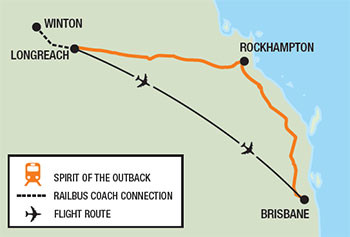 Day 1
Spirit of the Outback (boarding in Brisbane)
Please make your own way to Brisbane's Roma Street Railway Station. The tour guide will be available from 12.30 pm with check-in available for the Spirit of the Outback train from 12.55 pm*.
Get to know your tour leader and fellow travellers as you venture into the heart of the Queensland Outback. You'll be captivated by the vast landscapes between Brisbane and Longreach on this fantastic journey.
*Check-in for the Spirit of the Outback closes 30 minutes prior to departure, which is scheduled at 1.55 pm.
Accommodation: The Spirit of the Outback in a First Class Sleeper
Meals included: dinner
Day 2
Spirit of the Outback (Longreach)
This morning the train passes through the open landscapes of Outback Queensland. Arrive in Longreach for the start of your Outback Queensland adventure. You will be met at the Longreach Railway Station and transferred to your accommodation. Meet fellow travellers for a tour briefing and Welcome Barbeque.
Accommodation: Longreach Motor Inn or similar, Longreach
Meals included: breakfast, lunch, and dinner
Day 3
Longreach sightseeing
Witness a totally different way of schooling on a tour of the Longreach School of Distance Education. Visit the world-class Qantas Founders Museum, eloquently telling the story of the founding of Qantas. View marvellous interpretive and interactive exhibits then join a guided Jets Tour. Late afternoon, unwind on the Drover's Sunset Cruise with tasty on-board nibbles platters followed by a two-course table service dinner under the stars at Smithy's Outback Dinner & Show.
Accommodation: Longreach Motor Inn or similar, Longreach
Meals included: breakfast and dinner
Day 4
Longreach sightseeing
Join our Strathmore Station Tour for an insider's view into life on the land followed by a delicious home-baked morning tea. Explore the five themed galleries of the Australian Stockman's Hall of Fame then take your seat for the entertaining Outback Stockman's Show with lunch. Late afternoon experience the warm hospitality of local graziers with a visit to Camden Park Station. Enjoy a personalised tour of the property and family homestead followed by sunset drinks and dinner.
Accommodation: Longreach Motor Inn or similar, Longreach
Meals included: breakfast, lunch and dinner
Day 5
Winton sightseeing
Travel from the Mitchell grass plains of Longreach towards the dramatic mesa country of Winton on our full-day tour. We visit the Australian Age of Dinosaurs perched high on a magnificent mesa overlooking the plains where dinosaurs once roamed! Onsite dinosaur enthusiasts treat us to a top-class interpretive tour of the laboratory, collection room, and Dinosaur Canyon. In Winton see the quirky Arno's Wall, the Musical Fence and learn the story behind Australia's unofficial national anthem at the Waltzing Matilda Centre.
Accommodation: Longreach Motor Inn or similar, Longreach
Meals included: breakfast and lunch
Day 6
Longreach sightseeing
This morning we take a tour to nearby Ilfracombe founded in 1891 as a transport hub for Wellshot Station, which at the time held the largest number of sheep on any station in the world. See the Great Machinery Mile, an amazing line-up of historic machinery stretching over one kilometre. Enjoy a traditional pub lunch at the historic 100+-year-old Wellshot Hotel. You'll have some free time in downtown Longreach after lunch, then tonight, meet the Smith family for an exclusive dinner at historic Rosebank Station.
Accommodation: Longreach Motor Inn or similar, Longreach
Meals included: breakfast, lunch, and dinner
Day 7
Longreach sightseeing
Your Longreach adventure comes to an end with a transfer to Longreach airport for your flight back to Brisbane. Tour concludes at Brisbane Airport at approximately 1.05 pm (on Qantas Link flight QF2531).
Meals included: breakfast
Inclusions & Exclusions
---
Inclusions
One-way travel on the Spirit of the Outback from Brisbane to Longreach First Class Sleeper, 1 night
One-way flight from Longreach to Brisbane on Qantas Link
Transfer from Longreach train station to the hotel
Transfer to Longreach airport
5 nights' accommodation on a twin share basis with private bathroom facilities
All coach transfers in Longreach (Excluding Brisbane arrival & departure transfers)
Meals as indicated: 6 Breakfasts, 4 Lunches & 5 Dinners, including a Welcome BBQ
Tour guide for the 7 days
Sightseeing with entrance fees included

Longreach School of Distance Education
Qantas Founders Museum & Guided Jets Tour
Drover's Sunset Cruise including Smithy's Outback Dinner & Show
Strathmore Smoko Tour Australian Stockman's Hall of Fame
Outback Stockman's Show and Lunch
Camden Park Station Sunset Tour & Dinner
Australian Age of Dinosaurs Tour including Dinosaur Canyon
Waltzing Matilda Centre
Winton Town Tour
Ilfracombe Town Tour and Wellshot Hotel lunch
Rosebank Station Exclusive Dinner
Accommodation
The Spirit of the Outback in a first-class sleeper
Longreach - Longreach Motor Inn or similar
Group size
Maximum of 15 people
Health and Hygiene
The health and safety of our staff and customers – and preventing the spread of COVID-19 – is our top priority.
To support the containment of COVID-19, Queensland Rail Travel will continue to maintain a range of implemented changes across our long-distance and tourism network.
With significant increased health and safety measures in place, you can rest assured at each stage of your journey:
Social distancing on our services
We encourage all customers when travelling with us to meet social distancing expectations by maintaining 1.5 metres of social distancing at check-in points, stations, and our customer lounges and waiting areas
Patronage capacity limits are in place on all operating services to ensure social distancing measures are effectively applied with increased space provided between seat allocations in each carriage.

In the event where coaches will replace trains, social distancing will be applied on the buses also.
Elevated hygiene measures
Increased routine cleaning on all travel services and in key touchpoints including handrails, door handles, buttons, and other touchpoints throughout the train.

Sanitisation of all surfaces of the seat and tray tables, armrests, window ledges, grab rails, overhead lockers, and rack touchpoints between customer use.

Higher frequency cleaning of customer luggage trolleys and hard surfaces at manned stations (lifts, benches, handrails, ramps, door handles, tables, and chairs).

Single-use blankets have been removed from all services.

Weekly disinfectant fogging of train carriages.
Food service measures
Hospital grade, food-safe disinfectant used to wipe down hard surfaces in galley and food preparation after each customer.

We are no longer accepting reusable coffee cups at this time.

Reduced in-seat food and beverage services. Exceptions will be made for customers who are unable to go to the Galley.

Temporary Perspex barriers are installed in key food service areas.
We remind you to please follow Queensland Health's advice regarding maintaining good hygiene practices while travelling on our network.
We've gone cashless.
We are no longer accepting cash payments onboard at this time. Cashless payment methods are accepted with EFTPOS machines wiped down on a regular basis.
Luggage check-in
We are still accepting luggage from our customers. Please ensure you maintain the 1.5 metres of social distancing.
All our trains are operating in compliance with an Industry COVID Safe plan and each train has a statement of compliance onboard
Exclusions
Travel insurance (strongly recommended)
Anything not listed in the itinerary
Flights to or from Brisbane
Child Policy
Please enquire with info@traveldream.com.au or 1300 350 263 if you would like to travel with a child or infant.
Single Supplement
Travelling solo? Call us on 1300 350 263 or email at info@traveldream.com.au for a quote on the single supplement.
Extra Services
Looking to book your flights, arrive early or stay late post-tour? Call on 1300 350 263 or email us at info@traveldream.com.au to inquire.
Fine Print
The Traveldream 14-day refund guarantee does NOT apply to this booking. 100% cancellation fees apply after confirmation of the train cabin. The fare is non-transferable and non-refundable. No amendments allowed.
Fitness level required
To undertake most off-train experiences, a good level of fitness is required, including the ability to walk and balance on uneven ground. Sensible walking shoes are required. A health and fitness form will be required.
Roadtrip for Good
Communities affected by the Australian bushfires need our help. If you can do just one thing, go back to these towns. Plan a roadtrip. Arrive with wide smiles and open wallets. Buy a coffee or a loaf of bread. Stay for a day, a weekend or more.
Departure Dates
---
Saturday 10 Oct 2020 ‐ Friday 16 Oct 2020