Description
---
Say "Kon'nichiwa" to the amazing and unique country of Japan on this 16 Day Discover Japan tour. Walk through Buddhist temples, Shinto shrines, palaces and gardens and soak up the beautiful Japanese culture in the cities of Tokyo, Osaka and Kyoto. Explore historical samurai residences and soak in the sights of the incredible Japanese architecture in between eating as much sushi and ramen as your heart desires.
Itinerary
---
Day 1 Day 2 Day 3 Day 4 Day 5 Day 6 Day 7 Day 8 Day 9 Day 10 Day 11 Day 12 Day 13 Day 14 Day 15 Day 16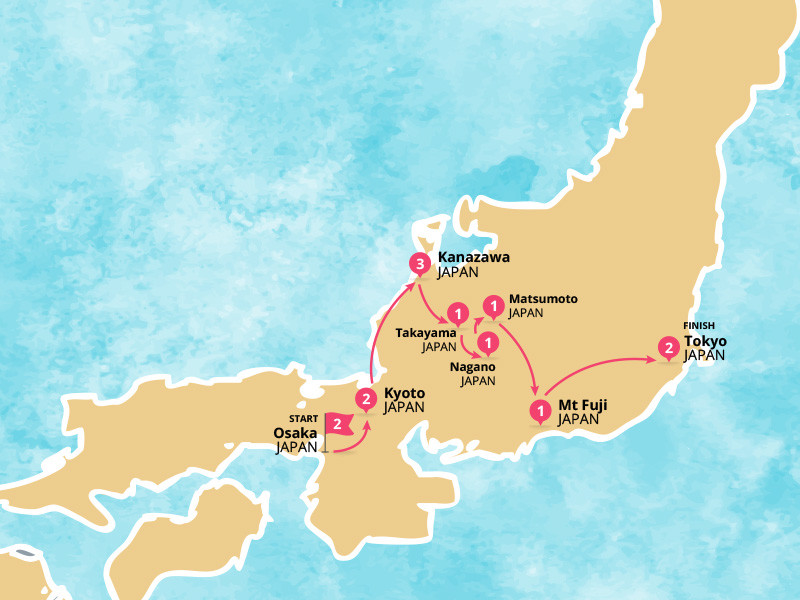 Day 1
Australia Osaka
Depart Australia today on your overnight flight to Japan.
Please note: some flights might depart 1 day later.
Meals included: inflight only
Day 2
Osaka
Upon arrival at Kansai Airport, clear customs and immigration before boarding the transfer to your accommodation.
Meals included: inflight only
Accommodation: Hotel Plaza Osaka or similar, Osaka
Day 3
Osaka Nara Osaka
This morning, you will travel to Nara and visit the Todaiji Temple, one of Japan's most famous temples. The massive building is home to one of Japan's largest bronze statues of Buddha (Daibutsu). The seated Buddha, reaching 15 metres tall, represents Vairocana and is supported by two Bodhisattvas. Along the approach to Todaiji stands the Nandaimon Gate, a large wooden gate watched over by two fierce looking statues. Representing the Nio Guardian Kings, the statues are designated national treasures together with the gate itself. After the Todaiji Temple you will wander back through Nara Park, home to hundreds of freely roaming deer. Considered in Shinto to be messengers of the gods, Nara's nearly 1200 deer have become a symbol of the city.
Next, visit the Osaka Castle. Built in 1583, the castle is an outstanding representation of Japan's feudal period. After Osaka Castle you will continue on to Dōtonbori, which exemplifies Osaka's vibrant food culture, where you will enjoy an amazing welcome dinner.
Meals included: breakfast, dinner
Day 4
Osaka Kyoto
This morning, you will board the famous Japanese Shinkansen Bullet Train to Kyoto (15 minutes). Begin your day by visiting the UNESCO World Heritage, Kinkaku-ji, commonly known as the Golden Pavilion. A Zen temple and World Heritage site with two floors covered entirely in thin layers of pure gold and detailed architecture incorporating three distinct styles of Shinden, Samurai and Zen. Afterwards, you'll visit the Nishijin Textile Centre and enjoy a traditional kimono show. Kimonos are still used for important festivals or formal moments in Japan even day.
Meals included: breakfast
Accommodation: Kyoto Plaza Hotel or similar, Kyoto
Day 5
Kyoto
Today is a free day to explore Kyoto at your own pace. Kyoto attracts millions of visitors every year and it's no wonder. With over 1,600 Buddhist temples, 400 Shinto shrines, palaces and gardens, who wouldn't want to visit? You might be lucky enough to spot a Geisha in the old district.
Meals included: breakfast
Day 6
Kyoto Kanazawa
This morning you will visit Nijo Castle, the Kyoto residence of the Tokugawa Shogunate and adesignated UNESCO world heritage site. After relaxing in the Arashiyama District, you will visit the Togetsu Bridge, the landmark of Western Kyoto for over four hundred years. Stroll through Bamboo Grove, one of Kyoto's top sights and for good reason: standing amid these soaring stalks of bamboo is like being in another world. Continue your journey to the city of Kanazawa.
Meals included: breakfast
Accommodation: Hotel Route-Inn Kanazawa Ekimae or similar, Kanazawa
Day 7
Kanazawa
Begin the day with a visit to the Higashi Chayagai district, famous for its teahouses built in traditional Japanese design. Continue to the Kenroku-en Garden – from its scale and beauty, it is regarded as one of the most beautiful feudal lords' gardens in Japan and has been maintained over many generations. After the gardens you will make your way to the Nagamachi Buke Yashiki district. A samurai district located at the foot of the former Kanazawa Castle, Nagamachi was where the Samurai and their families used to reside. The area preserves a historic atmosphere with its remaining samurai residences, earthen walls, private entrance gates, narrow lanes and water canals. Finish the day with a visit to the Omicho Market and sample some local food.
Meals included: breakfast
Day 8
Kanazawa
Today you can spend the day at your leisure and enjoy the city at your own pace. Kanazawa is known for well-preserved Edo-era districts, art museums and regional handicrafts.
Meals included: breakfast
Day 9
Kanazawa Shirakawa Go Takayama
Today after breakfast you will journey on to Takayama. Enroute, we visit Shirakawa-go. Shirakawa-go is a village located in Ōno District, Gifu Prefecture, Japan. It is best known for being the site of Shirakawa-gō, a small, traditional village showcasing a building style known as gasshō-zukuri. After, you will continue on to Takayama.
Meals included: breakfast
Accommodation: Washington Hotel Plaza or similar, Takayama
Day 10
Takayama Nagano
Today, you will visit some of Takayama's highlights. You will start with the Hida Folk Village, an open air museum exhibiting over 30 traditional houses from the region. Afterwards, you'll continue to the Matsuri-no-mori museum which showcases the key aspects of the Takayama Festival, which takes place for two days each spring and autumn. After learning about the Takayama Festival you'll continue on to San-machi Suji. Sanmachi Suji is a collection of three streets that make up Hida Takayama's famous historic district. The area located in the centre of Hida Takayama served as a bustling merchant town in the past. Today it is easily recognized with its distinctive old wooden architecture and charm, a traditional Japanese village area and Takayama Jinya. A small 3 lane area is filled with old wooden buildings consisting of sake breweries, small boutiques and some larger merchant houses which are now museums. After, we continue on to Nagano.
Meals included: breakfast
Accommodation: Hotel Abest Nagano Ekimae or similar, Nagano
Day 11
Nagano Matsumoto
Begin today with a visit to Hokusai Museum which is a museum dedicated to the ukiyo-e artist Katsushika Hokusai, commonly referred to as Hokusai. His most well-known works include The Great Wave off Kanagawa and Red Fuji, which are a couple of prints from the collection Thirty-Six Views of Mount Fuji. You'll continue to the Nagano's Zenkoji Temple - one of the most important and popular temples in Japan.
You will then depart Nagano for the city of Matsumoto. On arrival you will visit Matsumoto Castle, considered one of the top 3 feudal castles of Japan and arguably the city's most famous site. You will have time to stroll through the former merchant district of Nakamachi, lined with well preserved old buildings where you can find lovely local crafts, treasures and great restaurants.
Meals included: breakfast
Accommodation: Dormy Inn or similar, Matsumoto
Day 12
Matsumoto Mt Fuji
Today you will leave Matsumoto behind and travel to Mt Fuji. Visit Oshino Hakkai. Known as the Springs of Mt Fuji, the eight ponds are fed by melting snow filtering down from the slopes of nearby Mount Fuji through porous layers of lava resulting in very clear spring water that is revered by the locals. Continue your tour with a visit to the Mt Fuji 5th Station, which at 2300 meters above sea level, the offers a commanding view of the Fuji Five Lakes area below.
Meals included: breakfast
Accommodation: Hotel Alexander Yamanakako or similar, Mt Fuji area
Day 13
Mt Fuji Tokyo
Today, visit Gotemba Peace Park to capture a breathtaking view of Mt Fuji before taking a cruise on Lake Ashi, Savour the numerous delights of nature in the Hakone region. Hakone is part of the Fuji- Hakone-Izu National Park, less than 100 kilometers from Tokyo. Famous for hot springs, natural beauty and the view of nearby Mt. Fuji, Hakone is one of the most popular destinations among the Japanese looking for a break from Tokyo.
Tonight's dinner allows you to farewell your fellow travellers before enjoying some free time in Tokyo over the next couple of days.
Meals included: breakfast, dinner
Accommodation: Apa Hotel Asakusa or similar, Tokyo
Day 14
Tokyo
Today is a free day at leisure to enjoy the Japanese way of life in one of the world's greatest cities.
Meals included: breakfast
Day 15
Tokyo Australia
At the appropriate time you will be transferred to the airport for your homebound flight.
Meals included: breakfast, inflight
Day 16
Australia
Arrive home today
Meals included: inflight only
Inclusions & Exclusions
---
Inclusions
Return economy class international airfares, taxes and fuel surcharges
Flights with China Southern Airlines, China Eastern Airlines (subject to availability)
13 nights 3-star standard hotel accommodation on twin share basis
Meals as indicated: 13 Breakfasts and 2 Dinners
Ride the bullet train from Osaka to Kyoto
Professional tour guide and experienced local guides throughout
Air-conditioned coach transportation
In-depth sightseeing as per the itinerary
All monument entrance fees as per the itinerary
Hassle free return airport transfers
Cherry Blossom and Koyo/Maple Season dates available!
Accommodation
Osaka - Hotel Plaza Osaka
Kyoto - Kyoto Plaza Hotel
Kanazawa - Hotel Route-Inn Kanazawa Ekimae
Takayama - Washington Hotel Plaza
Nagano - Hotel Abest Nagano Ekimae
Matsumoto - Dormy Inn
Mt Fuji area - Hotel Alexander Yamanakako
Tokyo - Apa Hotel Asakusa
Exclusions
Travel insurance (strongly recommended)
Personal expenditure and anything not stated
Optional recommended programs
Optional tour extensions
Child Policy
No child discounts apply. A full priced voucher must be purchased for all children travelling. Children must be accompanied by a responsible adult 18 years old and over to travel. No unaccompanied minors are allowed.
Single Supplement
The additional supplement for a single traveler is $1750.
Departure Dates
---
Sunday 03 Nov 2019 ‐ Monday 18 Nov 2019
Sunday 10 Nov 2019 ‐ Monday 25 Nov 2019
Sunday 17 Nov 2019 ‐ Monday 02 Dec 2019
Tuesday 03 Mar 2020 ‐ Wednesday 18 Mar 2020
Tuesday 10 Mar 2020 ‐ Wednesday 25 Mar 2020