Description
---
Experience Christmas this year with a bit of snow! This tour will take you through some of the highlights of Western and Central Europe while you get to enjoy a traditional European holiday season full of hot chocolate and wine.
Your tour will begin in Munich, a city of contradictions and BMWs. After exploring the cultural hotspots you'll make your way to the gorgeous Czech capital - Prague. Soak in the history and unbelievable architecture while celebrating Christmas Day.
From the Czech Republic, you'll continue on to Krakow, Budapest, Bratislava, Vienna - all unique European cities in the full swing of the holidays. New Year's Eve will find you in Ljubljana - a spectacular place for a fireworks show. Last but not least it's picture-perfect Salzburg treating you to sights of cliff-top fortresses and majestic mountains before making your way back to Munich.
A perfect holiday experience!
Itinerary
---
Day 1 Day 2 Day 3 Day 4 Day 5 Day 6 Day 7 Day 8 Day 9 Day 10 Day 11 Day 12 Day 13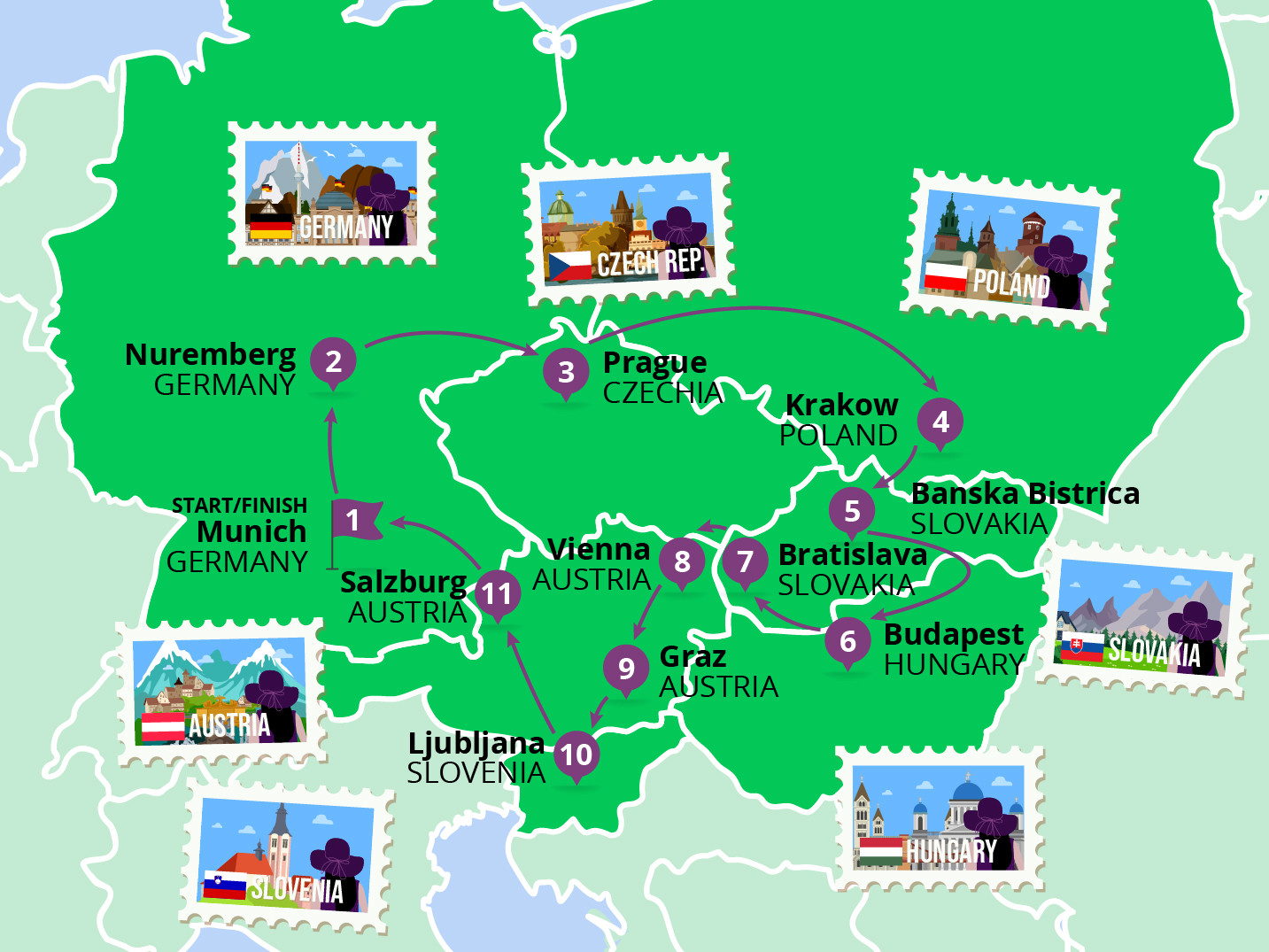 Day 1
Australia Germany
Your adventure starts today with your flight to Munich!
Meals included: inflight only
Day 2
Munich arrival
Welcome to Munich! Join up at our starting hotel this afternoon and meet your tour leader and fellow travellers. A city that exhibits both prosperity and a certain amount of comfort and cosiness, Munich's apparent contradictions will delight the avid explorer. Along with modern high-powered industry, designer shopping districts and sleek BMWs, you'll find a wealth of cultural hotspots. Even with all its smart sophistication, Munich has a certain charm that visitors find irresistible. Tonight, we'll take you to a traditional German beer hall to get a taste of German food and culture. Prost!
Accommodation: Ibis Muenchen City or similar, Munich
Meals included: breakfast and dinner
Day 3
Munich Nuremberg Prague
On our journey to Prague we'll stop off in Nuremberg. Bavaria's second- largest city, you'll find incredible architecture here, painstakingly restored using original stone after the bombings of the Second World War. Arriving in Prague this evening, you'll discover a beautiful city, boasting elaborate baroque, gothic, art nouveau and cubist architecture, and rewarding those who explore it with quirky bars, cobbled lanes and courtyards. You'll experience authentic Czech cuisine at our local restaurant for dinner on your first night in Prague. Get into the festive spirit, it's Christmas Eve!
Accommodation: Hotel Duo or similar, Prague
Meals included: breakfast and dinner
Day 4
Prague (Christmas Day)
Merry Christmas! Start the day with a city tour with a local expert guide to see all the must-see sights. Also visit and explore the grounds of the majestic Prague castle with the guidance of your tour leader, one of the largest castle complexes in the world. It's also the official office of the president of the Czech Republic! The rest of the day is free for you to explore as you wish. Prague also has one of the finest Christmas markets in Europe. It's held in the historic Old Town Square. It makes for a great shopping experience amidst the sound of carol singers and the smell of mulled wine and spiced gingerbread. Make sure you see the famous Charles Bridge, the 'Old Town' and the Jewish Quarter. There is also a 'Secret Garden', which leads to a man-made grotto! For those who wish to put your stamp on the city, visit the Lennon wall - a tribute to John Lennon.
Accommodation: Hotel Duo or similar, Prague
Meals included: breakfast
Day 5
Prague Krakow
We hope you enjoyed Christmas in the Czech Republic! Leaving Prague behind us, we continue on to Krakow. The royal capital of Poland for centuries, Krakow today is home to some of Europe's most impressive Gothic and Renaissance architecture – and over 2.3 million artworks to complement its historic buildings and monuments. Enjoy a walking tour of the city with your tour leader, who will show you all the main sights and give you ideas of what to explore further during your free day tomorrow.
Accommodation: Hotel Polonia or similar, Krakow
Meals included: breakfast
Day 6
Krakow
The day is yours to explore the city further if you wish. The renaissance cloth hall in the main market square, the Old Town, Kazimierz and the Wawel Castle, or maybe sample the local cuisine such as Zurek, a very traditional Polish soup with a distinctive sour taste that is dished up in a special hollowed out loaf of bread. There is also the option of taking an optional excursion to the Krakow Salt Mine. Listed as a UNESCO World Heritage Site, the mine dates back to the Middle Ages and is a fascinating look at the area's history. Descending underground, you'll walk through 2km of tunnels, chapels, reliefs and freestanding sculptures carved from salt rock walls; along with underground lakes and archaeological displays.
Accommodation: Hotel Polonia or similar, Krakow
Meals included: breakfast
Day 7
Krakow Banska Bystrica Budapest
On our way to Budapest, we stop briefly in Banska Bystrica in Slovakia, a picturesque town with beautiful buildings dating back to the late Middle Ages. Then we're off to Budapest, the Hungarian capital. Blessed with natural beauty (it straddles the Danube River) as well as baroque, neoclassical and art nouveau architecture, this is a city to behold. Get a good overview of it all with our Budapest driving tour when you arrive.
Starting on the Pest side of the Danube, head across the river and stop at the Fisherman's Bastion for spectacular views of the city and the river below. See the Houses of Parliament and drive along the river admiring the city – take note of spots to revisit tomorrow on your free day. Tonight's meal is at a local restaurant, so savour the chance to try some of the local cuisine!.
Accommodation: Ibis Budapest City or similar, Budapest
Meals included: breakfast and dinner
Day 8
Budapest
With traces of the past evident in the interesting and unusual details, this is your chance to get up close and personal with Budapest. Look out for remnants of the conflicts of WWII and the uprising of 1956, try Hungarian cuisine (there is so much more to it than just goulash), sample world-renowned wines, and soak your weary rambler's bones in one of the city's bath-houses – something Budapest has been known for since the Roman times, with some 123 thermal and 400 mineral springs from 14 different sources.
Accommodation: Ibis Budapest City or similar, Budapest
Meals included: breakfast
Day 9
Budapest Bratislava Vienna
We leave Budapest and head for the grandeur of Vienna, stopping for a short break in Bratislava. Your tour leader will take you on an orientation tour to see some of the main sights, including a photostop at Bratislava Castle, which overlooks the city. On arrival in Vienna, we'll take a driving tour. Few cities can show off such cultural and historical splendour and maintain a profile as an exciting, modern city, but Vienna does it well. Along with a musical past that includes luminaries like Mozart and Beethoven, Vienna has a buzzing modern culinary scene, cheerful, bustling pubs and bars, and a host of clubs and music venues in which to dance the night away. After the driving tour we'll enjoy an included dinner, before some free time to explore further.
Accommodation: Fourside Hotel Vienna City Center or similar, Vienna
Meals included: breakfast
Day 10
Vienna Graz Ljubljana (New Years' Eve)
Leaving Vienna behind, we head for the grandeur of Ljubljana, taking a comfort stop in the beautiful city of Graz. On arrival in Ljubljana, we'll have a walking tour of this little gem of a city. Despite its small size, you're sure to be entranced by the beauty of this city, which features a wealth of cultures, activities and sights. Ljubljana Castle overlooks the city, and dates back to the 16th Century. Tonight, ring in the New Year! Ljubljana's open-air celebrations are held throughout the city in public squares, with live music and events, before a beautiful fireworks display is launched from the castle hill as the clock strikes midnight.
Accommodation: Hotel Park or similar, Ljubljana
Meals included: breakfast
Day 11
Ljubljana Salzburg Munich
Leaving Ljubljana behind, we stop off in picture-perfect Salzburg. Featuring gorgeous architecture, a formidable cliff-top fortress and imposing cliffs in the distance, you could be forgiven for thinking that you were in a fairy-tale. This was also Mozart's home-town - see if a little of the genius rubs off! Arriving back in Munich, the evening is free for you to spend as you wish. Relax in your hotel, go for dinner in a local restaurant (at own expense), or even visit another beer hall with your new-found friends on the tour.
Accommodation: Ibis Muenchen City or similar, Munich
Meals included: breakfast
Day 12
Munich Australia
Our Christmas and New Year adventure concludes in Munich after breakfast. We hope you've loved every minute of your Eastern Highlights tour, and we wish you a safe onward journey!
Transfer to the airport for your flight home to Australia.
Meals included: breakfast and inflight
Day 13
Australia
Arrive home today
Meals included: inflight only
Inclusions & Exclusions
---
Inclusions
Return economy class airfare from Melbourne, Sydney, Brisbane, Perth, Adelaide*, Hobart* and Canberra* (*surcharges apply)
International flights with Singapore Airlines, Emirates Airline, Lufthansa, Etihad Airways, Qatar Airlines or Thai Airways (subject to availability)
Roundtrip airport to hotel transfers
10 nights hotel accommodation on twinshare basis with private bathroom facilities
Meals as indicated: 10 breakfasts and 5 dinners
Transport in modern air conditioned coach with reclining seats, TV for showing DVDs and toilet
Services of a tour leader
Accommodation
Munich - Ibis Muenchen City or similar
Prague - Hotel Duo or similar
Krakow - Hotel Polonia or similar
Budapest - Ibis Budapest City or similar
Vienna - Fourside Hotel Vienna City Center or similar
Ljubljana - Hotel Park or similar
Exclusions
Any visas as required
Meals and drinks
Any additional requests.
Tips
Child Policy
Children that are 2 to 11 years of age are eligible for a 10% discount. Children must be accompanied by a responsible adult 18 years old and over to travel. No unaccompanied minors are allowed.
Single Supplement
The additional supplement for a single traveller is $1099.
Looking to save on the single supplement? Join our Facebook group - Solo Traveldreamers to connect with other solo travellers or call us on 1300 350 263.
Group Size
The group size for this tour is a maximum of 44 travellers. However, depending on your departure date the group size could be between 25-35 travellers.
Departure Dates
---
Sunday 22 Dec 2019 ‐ Friday 03 Jan 2020