Description
---
Experience lively Cuba, a place unlike anywhere else you will ever visit. This 10 Day Captivating Cuba Tour will excite your senses and is the best way to begin your love affair with this incredible country.
Cuba's rich history and culture will come to life over 10 magical days. Imagine yourself walking along the cobblened street of gorgeous Trinidad, discovering the wonder of Havana and absorbing the pulsating rhythms of Cuban culture in Viñales. This is just the beginning of what's yet to uncover on your Cuban escape!
Itinerary
---
Day 1 Day 2 Day 3 Day 4 Day 5 Day 6 Day 7 Day 8 Day 9 Day 10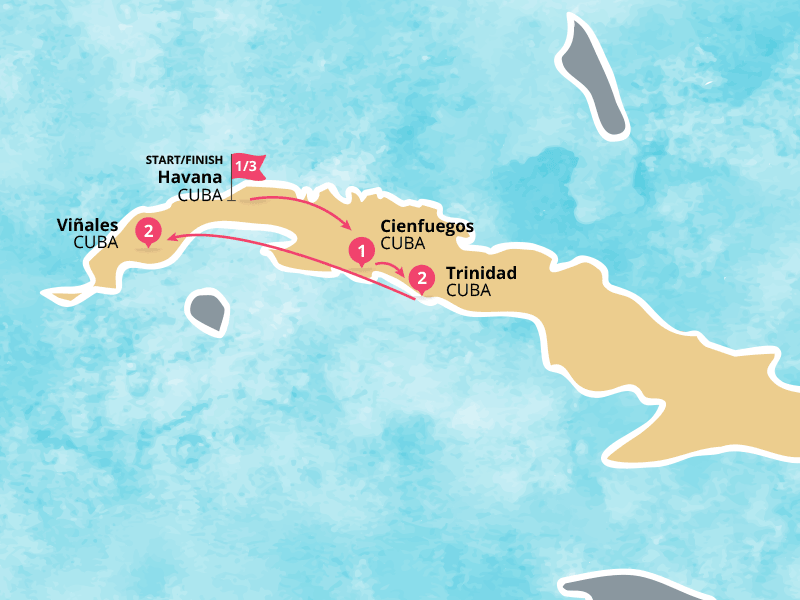 Day 1
Havana
There's so much life in Havana, and yet this bustling city never feels overwhelming. The only difficult thing about the city is knowing where to start exploring. The best way for those embarking on the 10 day Cuba group tour to get started is with a pair of comfortable walking shoes.
The entire city is fascinating, but fortunately many of the main points of interest are within a fairly compact area. Take a leisurely stroll through Havana's Old Town, with pauses for coffee (and Cuban coffee is amongst the best in the world), or for a magical mojito. The architecture of this part of the city is an attraction in itself. The first day of our 10 day Cuba group tours is the perfect way to ease yourself into Cuban life. You can even join your guide and fellow tour group members for dinner if you arrive in time.
Please note that the first day of the tour is a joining day with no formal activities planned. Your accommodation is organised for this evening and an optional dinner with your guide and group.
Accommodation: Cuban B&B (Casa Particulares)
Meals included: inflight only
Day 2
Cienfuegos
See Playa Girón, which is otherwise known as the Bay of Pigs. This was the site of the infamous failed invasion of Cuba. Its brutal history is nowhere to be seen, and it's now an area of profound natural beauty. You'll want to dive straight into that beautiful ocean, and don't worry – there will be time.
While most of Cuba was settled by the Spanish, it was actually the French who made Cienfuegos into the city it is today. French migrants flocked to the area in the 1800's and their architectural influence on the city is obvious. On some streets you might think you're walking through Paris (although with infinitely better weather).
At the entrance to the harbour you'll see the Castillo de Jagua, an ancient fort that allowed the city to withstand the pirate attacks that were once common in Cuba. Many buildings in the town have been given UNESCO world heritage status, and you might think you've never seen such a beautiful town… until you're shown some other places.
A harbour city by location, the 'Pearl of the Caribbean' has seduced Cuban travellers for years due to its elegance and beauty. Explore the wide streets and promenades or enjoy a walk by the Malecon, the longest promenade on the island."Cienfuegos is the city I like the best", wrote Beni More, one of Cubas most important musicians in the first half of the 20th century.
Accommodation: Cuban B&B (Casa Particulares)
Meals included: breakfast
Day 3
Trinidad
While Che Guevara is synonymous with Cuba, his final days were actually spent in Bolivia. Cuba felt he needed a hero's burial and memorial, and this is located in Santa Clara, to where his body was returned. You will be taken to this remarkable spot near Trinidad. It was in Santa Clara that Guevara and his rebels successfully derailed a military train carrying weapons and ammunition to be used against Fidel Castro. This act was credited with winning the revolution.
After Santa Clara you'll go to remarkable Trinidad. Founded in 1514, the central parts of the city have been lovingly maintained, and you might wonder if you've been transported back in time. Many buildings are painted in sensational shades of colour, making Trinidad a true treat for the eyes. Trinidad was once the heart of Cuba's sugar industry (and a lot of sugar cane is still processed here). You simply have to take a visit to the sugar district, where many of the old mills can be found. For a fairly small city, there's an amazing amount of nightlife as well.
Take the opportunity to visit a local waterfall, historic sugar mill or one of Cuba's best beaches – Playa Ancon. An evening at one of Trinidad's effervescent music venues is a must!
Accommodation: Cuban B&B (Casa Particulares)
Meals included: breakfast
Day 4
Trinidad
Your day is free at leisure. Take the opportunity to visit a local waterfall, historic sugar mill or one of Cuba's best beaches – Playa Ancon. An evening at one of Trinidad's effervescent music venues is a must!
Accommodation: Cuban B&B (Casa Particulares)
Meals included: breakfast
Day 5
Viñales
Viñales is reasonably close to Havana, and has been popular with visitors for generations. In the heart of the Pinar del Rio valley, most of Cuba's tobacco production takes place in and around Viñales. This is the place to see where those world famous cigars come from, and to get some for yourself.
The geography in the area is stunning, and the town is ringed by stark mogotes – small hills with sheer rock faces. All of our Cuba group tours offer you the chance to take salsa lessons, and Viñales is the best place to do this.
The nightlife is lively, but not as crowded as larger cities – just in case you don't want to have an audience!
Accommodation: Cuban B&B (Casa Particulares)
Meals included: breakfast
Day 6
Viñales
Your day is free at leisure to explore Viñales.
Accommodation: Cuban B&B (Casa Particulares)
Meals included: breakfast
Day 7
Havana
You'll be welcomed back to heavenly Havana for the last days of your tour. Your guides will be able to tell you about some amazing places to see that you might not have considered. On the afternoon of Day 7, you will take a tour of the city by classic car.
There are currently an estimated 60,000 pre-1960 American cars hurtling through Cuba today and before the embargo there were at least 150,000. Buicks, Chevys, and countless other cool-finned cruisers rumble down the crumbling streets of Havana, many abandoned by their American owners when they fled in 1959 and kept going by Cuban ingenuity. This iconic mode of transport is the perfect way to see wider Havana and a very different side of the city. Here you will be chauffeured around some of the most famous areas of Havana including New Havana, Old Havana, the affluent neighbourhood of Miramar and the famous cemetery of Colon.
Accommodation: Cuban B&B (Casa Particulares)
Meals included: breakfast
Day 8
Havana
The best place to start any Havana experience is in the Old City. Havana's Old City is one of the best preserved and was designated a World Heritage Site in 1982. The streets are lined with colonial architecture, 16th century fortresses and countless churches. After breakfast your local guide will meet you at 9am at your hotel and take you on a walking tour of Old Havana and you will visit La Catedral San Cristobal de la Habana, described by the novelist Alejo Carpentier as 'music set in stone'. You will also visit famous landmarks such as Palacio de los Marqueses de Aguas Claras (now a restaurant) and the Plaza de Armas, complete with a statue of Manuel de Cespedes, one of the leaders of the independence movement. There are plenty of good museums to visit on the walking tour including Museo de la Revolucion and the Museo Nacional de Bellas Artes.
Your guide will also give you the option to visit Saint Francis of Assisi Square, Arms Square, the Old Square and Cathedral Square.
On the walking tour you will experience a panoramic tour through the "Malecón", the Revolution Square, Central Park, Opera House, Capitol building, former Bacardi Building and Museum of the Revolution, former Presidential Palace with plenty of opportunities for photos. You will also have the opportunity to have lunch at an authentic family-run Cuban restaurant (Paladar).
In the afternoon we recommend visiting Callejon de Hammel in central Havana. Callejon de Hammel is where the Cuban artist fraternity congregate, and is a wonderful place to experience day-to-day Cuban life. Located in central Havana, the alley is brightly decorated in Cuban sculptures, art and paintings. You might also be able to catch a glimpse of a dance exhibition or meet Lazaro Salsita, who opens his home to teach neighbourhood children the art of papier-mâché. Make sure you check out Local artist Salvador González Escalona's neighbourhood makeover.
Accommodation: Cuban B&B (Casa Particulares)
Meals included: breakfast
Day 9
Havana
When anyone mentions Cuba two of the first things that come to mind are Cigars and Rum cocktails, immortalized by Hemingway.
Cuba has a long history of producing the world's best cigars and rum, and today you will be able to see for yourself how both of these famous exports are produced and learn all about their history and importance to Cuba's economy.
Today you can visit the Havana Rum Museum, housed in a converted old Palace where you can see the entire production process for this valuable export. Of course you will have the chance to taste some good rum in the Havana Club and also buy some to take home with you.
The next stop might be the Hotel Conde de Villanueva, an attractively restored 18th century mansion in the historic centre of the city. The hotel has one of the most popular cigar shops in town, and many people have personal humidors here to store their precious cigars. Here you will meet a "torcedor" or cigar roller, who will answer all your questions while you watch him go about his special craft. At the end of the demonstration you can do a cigar and coffee tasting, and buy some of the freshly-rolled cigars.
From here you will go to visit el Floridita, one of Hemingway's favourite bars to sample a genuine Cuban daiquiri before moving on to the Partagas Cigar Factory where the mystique behind cigar making will be revealed, and you will find out why Cuban cigars are so revered. Even non-smokers and teetotallers will enjoy the tour and get a deeper understanding of the history and culture of this fascinating city.
Accommodation: Cuban B&B (Casa Particulares)
Meals included: breakfast
Day 10
Departure Day
No activities planned are planned today, meaning you are free to depart at any time. Transfer to Havana airport for flights home
Meals included: breakfast and inflight
* Extension package available. Please contact us at info@traveldream.com.au for more details.
Inclusions & Exclusions
---
Inclusions
Return economy class airfare from Melbourne, Sydney or Brisbane
International flights with LATAM Airlines, Air Canada or Aeromexico (subject to availability)
9 nights Cuban B&Bs (Casa Particulares)
Meals as indicated in the itinerary: 9 breakfasts
Private transportation combined with local Viazul bus and taxi
Sightseeing with entry fees as mentioned
- Havana city tour in classic car
- Visit to

Viñales

tobacco farm
- Che Memorial and Museum
- Informal salsa dancing lesson in Trinidad or Viñales
- 1 x drink at Palacio de Valle in Cienfuegos
- Havana Rum Museum
- Cigar Factory
- Callejon de Hammel
- Old Havana Walking Tour
English speaking tour guides


All Traveldream deals are backed by a 14-day refund guarantee!
Exclusions
Cuba entry visa
Meals not mentioned on itinerary
All drinks
Any additional requests
Tips (driver, representative & guide)
Child Policy
No child discounts apply. A full-price voucher must be purchased for all children travelling. Children must be accompanied by a responsible adult 18 years or older. No unaccompanied minors are allowed.