Description
---
Explore Madrid, Seville, Granada, Barcelona & More!
From endless selfie opportunities in front of the Sagrada Familia to lazing on the beaches of Palma de Mallorca, get ready to be acquainted with Spain in style. Treat yourself to the trip of a lifetime with comfortable accommodation, enriching tours and a swanky cruise, excellent for soaking up the golden, Mediterranean sun. Complimentary sweet tan to gloat about to friends and family back home included in every tour.
Start your Spanish adventure in the central capital of Madrid and familiarise yourself with the incredible culture (and tapas). Prepare to have your breath taken away in Granada with an optional Flamenco dance show, amazing architecture in Seville and beachside views in Barcelona, all to be experienced with a Sangria in hand.
Just when you thought you couldn't get enough, cruise your way through and visit some of Europe's other city highlights in style, including Genoa in Italy and Cannes in France.
Itinerary
---
Day 1 Day 2 Day 3 Day 4 Day 5 Day 6 Day 7 Day 8 Day 9 Day 10 Day 11 Day 12 Day 13 Day 14 Day 15 Day 16 Day 17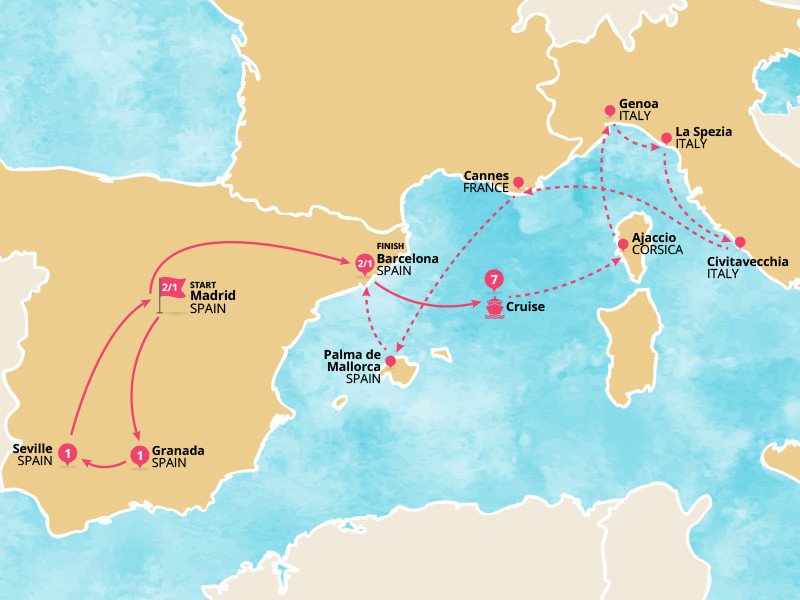 Day 1
Australia Madrid
Meals included: inflight only
Day 2
Madrid
Welcome to Madrid, Spain! Upon arrival, a transfer will be provided. Your driver will be waiting for you at the arrival hall to take you to your hotel where you will be provided with information about the area. (Normal Check in Time is 3:00pm)
In the evening, a transfer will be provided to the Egyptian Debod temple, Plaza de España and Gran Via; a vibrant district for you to explore. You will have the chance to try out some typical Spanish food, fare, or cuisine (at your own expense) before returning to the hotel.
Meals included: inflight only
Accommodation: Hotel Praga or similar, Madrid
Day 3
Madrid
Enjoy breakfast at your hotel and then begin your discovery of Madrid with your local guide. The tour will showcase the city's vibrant centre, the beautiful Plaza Mayor (Main Square), its broad and magnificent avenues, and its many fountains. You'll have a chance to visit the Plaza de Toros de las Ventas (entrance included) and go on a walking tour of the beautiful Retiro Park enhanced by the lake and Crystal Palace. Enjoy the rest of the afternoon at your leisure. Why not try the optional visit to the Royal Palace (own expense)? In the evening, you'll be transferred to the Plaza de Oriente in the historic centre of Madrid where you will have time for dinner (own expense).
Meals included: breakfast
Day 4
Madrid Granada
Leaving Madrid by bus in the early morning after a delightful breakfast you'll begin travel to the south of Spain across La Mancha, stopping in Puerto Lapice, a 'manchego' village evoking the figure of Don Quixote. We will enter Andalusia via Despeñaperros. In the afternoon with a local guide you will tour Granada's famed Moorish palace, the Alhambra Palace (entrance included), a spectacular UNESCO World Heritage site. Later, enjoy an evening transfer to the Plaza de Gracia where restaurants mix with local, cultural flavor to create an unforgettable night. After dinner (own expense), why not attend an optional activity – a flamenco dance show and the traditional neighbourhood of Sacramonte.
Note: in the Alhambra complex, the Nazari palaces allow a limited number of people in at a time. In the event that we are not able to the visit the area of Alhambra, a visit to the Alcázares will be included in Seville (which have a similar architecture and features).
Meals included: breakfast
Accommodation: Hotel Alixares or similar, Granada
Day 5
Granada Malaga Marbella Ronda Seville
After breakfast, depart Granada for the port city of Malaga. Upon arrival, you will have a quick stop to stroll along the historic centre with its cathedral and the Picasso Museum. After that, you will continue a scenic drive along the coastal motorway with beautiful views of the Mediterranean and Puerto Banus, in Marbella, a pretty high level recreational port. After lunch (own expense), you will continue through the hills and their stories of bandoliers until you arrivein Ronda, a very beautiful white town with its large gorge that divides it in two. Shortly afterwards you'll continue to Seville where you arrive at the end of the afternoon.
Meals included: breakfast
Accommodation: Alcora Sevilla or similar, Seville
Day 6
Sevile Madrid
After breakfast at the hotel you'll begin your discovery of Seville, one of the gems of Andalusia. This atmospheric city is a delight to explore! Enjoy a guided walking tour featuring the Cathedral and its famous Giralda, the banks of the Guadalquivir river, popular neighborhoods of Santa Cruz and Triana and also the beautiful Plaza de España. In the afternoon, enjoy a high-speed train trip (ticket included) through Andalusian and Castilian landscapes through to Madrid (approx. 2 ½ hours). Upon arrival in Madrid you will be transferred to the hotel.
Meals included: breakfast
Accommodation: Hotel Praga or similar, Madrid
Day 7
Madrid Zaragoza Montserrat Barcelona
Depart early in the morning from Madrid towards Aragón, whilst briefly stopping in Zaragoza. You'll will stop by at the Basílica del Pilar, the universal symbol of Zaragoza, while also visiting this impressive sanctuary. Directly afterwards, you will have free time in the city centre to explore the city's emblematic buildings such as the La Lonja Palace or the San Salvador Cathedral. Later, you will travel onto the Monastery of Montserrat which includes a ride on the rack train for the fantastic views all the way to Barcelona. Arrive in Barcelona during the late afternoon.
Important note: in the winter months from November to March (included), due to the shorter days, the Monastery of Poblet will not be visited so that we can reach Montserrat in the daylight.
Meals included: breakfast

Accommodation: Front Air Congress or similar, Barcelona
Day 8
Barcelona
Following breakfast you will get to know Barcelona, an impressive city right on the Mediterranean Sea. You be introduced to your local expert for a fantastic sightseeing city tour of the historic central area with its Gothic neighbourhood dating back to the Middle Ages. You'll visit the area where the Olympic Games took place, where it's possible to see and photograph La Sagrada Familia Basilica; the masterpiece designed by the architect Gaudi. Subsequently, we include the entry ticket to "Poble Espanyol" (meaning "Spanish Village"). This open air architectural museum is situated in one of the most emblematic areas of Barcelona. Be delighted by the best Spanish craftsmanship and discover the architectural styles, traditions and folklore of the different communities in Spain. You will have some free time to explore the city on your own.
In the evening, transfer service will be provided to the most vivid street in Barcelona, Las Ramblas and Plaza Catalunya area for dinner (own expense). Enjoy the bustling life of Barcelona before returning back to hotel.
Meals included: breakfast
Day 9
Barcelona
Free at leisure in the morning. Get ready to be at the hotel lobby at 1:00pm and be transferred to the cruise terminal for check in. The cruise will set sail at 6:00pm. Sit back and relax.
Meals included: breakfast and dinner
Accommodation: MSC Seaview
Day 10
Barcelona Ajaccio
Ajaccio is a relaxed and good-looking place for a visit to Corsica, with an exceptionally mild climate and a wealth of smart cafés, restaurants and shops. The core of the old town of Ajaccio – a cluster of ancient streets spreading north and south, opening out to the seafront by the port and the marina – holds the most interest.
Meals included: breakfast, lunch and dinner
Day 11
Ajaccio Genoa
During a holiday to Genoa you can explore its old town: a dense and fascinating warren of medieval alleyways home to large palazzi built in the sixteenth and seventeenth centuries by Genoa's wealthy mercantile families and now transformed into museums and art galleries. You should seek out the Cattedrale di San Lorenzo, the Palazzo Ducale, and the Renaissance palaces of Via Garibaldi which contain the cream of Genoa's art collections, as well as furniture and decor from the grandest days of the city's past, when its ships sailed to all corners of the Mediterranean Sea.
Meals included: breakfast, lunch and dinner
Day 12
Genoa La Spezia
The port at the head of the majestic Gulf of La Spezia, an impressively sweeping panorama of islands and rough headlands renamed the Gulf of the Poets, is workaday La Spezia. A major naval and shipbuilding centre, it has a fine art gallery, the Museo Amedeo Lia; containing the finest collection of medieval and Renaissance art you can enjoy on a holiday to Liguria.
Meals included: breakfast, lunch and dinner
Day 13
La Spezia Civitavecchia
The port of Civitavecchia is one of the largest in Italy and is, of course, a destination of MSC Cruises in the Mediterranean. Civitavecchia enjoys a millenary history due to its coves along the coast, which offer a perfect shelter for vessels, making it a natural port long before cruise ships sailed the seas. In fact, the port was known to the Romans as Centumcellae.
Meals included: breakfast, lunch and dinner
Day 14
Civitavecchia Cannes
A holiday to France with MSC Cruises is the perfect chance to visit Cannes. MSC Mediterranean cruises also offer excursions to Nice. Since reaching its zenith in the belle époque of the late nineteenth century, it has retained its historical styles almost intact: the medieval rabbit warren of Vieux Nice, the Italianate facades of modern Nice and the rich exuberance of fin-de-siècle residences dating from when the city was Europe's most fashionable winter retreat.
Meals included: breakfast, lunch and dinner
Day 15
Cannes Palma de Mallorca
Palma is a vibrant place and a world away from the heaving tourist enclaves of the surrounding bay. With an MSC excursion, you can catch a boat across from Sant Elm's minuscule harbour to the austere offshore islet of SaDragonera, an uninhabited chunk of rock some 4km long and 700m wide, with an imposing ridge of sea cliffs dominating its north-western shore.
Meals included: breakfast, lunch and dinner
Day 16
Barcelona
This morning dock at 8:00am in Barcelona. You will be transferred to airport for your homebound flights. Bid a fond farewell to this breathtaking cruise as your memorable holiday comes to an end.
Meals included: breakfast, lunch and dinner
Day 17
Barcelona Australia
Meals included: inflight only
Inclusions & Exclusions
---
Inclusions
Return Economy Class Airfare from Melbourne, Sydney, Brisbane, Adelaide and Perth
Flights with Lufthansa, Air France, Cathay Pacific, Qatar, British Airways, Swiss Air, Etihad Airways, China Southern Airlines or Finnair (subject to availability)
7 nights Mediterranean Cruise from Barcelona aboard the MSC Seaview
7 nights hotel accommodation on twinshare basis
Meals as indicated: 14 Breakfasts, 6 Lunches and 7 Dinners
Arrival and departure airport transfers
Air-conditioned coach transportation
Hotel to cruise port transfer in Barcelona
Cruise port to airport transfer on Day 16
High-speed train from Seville to Madrid
English speaking tour guides
Guided sightseeing city tours – Madrid, Granada (Alhambra), Seville, Poblet & Barcelona
Entrance fee/admissions mentioned on the itinerary

Plaza de Toros de las Ventas (Madrid)
Alhambra (Granada)
Poblet Monastery (Poblet)
Poble Espanyol (Barcelona)
Rack train ride (Monserrant)
Accommodation
Madrid - Hotel Praga or similar
Granada - Hotel Alixares or similar
Seville - Alcora Sevilla or similar
Barcelona - Front Air Congress or similar

All Traveldream deals are backed by a 14-day refund guarantee!
Exclusions
Optional gratuities/tipping
Gratuity is mandatory for MSC cruise at €9.00 (approx. $15 AUD) per person, per day payable onboard at the end of the cruise
Optional activities, tours, entrance fees and/or onshore excursions
Personal Expenses
Travel Insurance (strongly recommended)
Visa(s)/Visa fee
Child Policy
No child discounts apply. A full priced voucher must be purchased for all children travelling. Children must be accompanied by a responsible adult 18 years old and over to travel. No unaccompanied minors are allowed.