Description
---
Begin 2022 on a high with a journey over the top of Australia!
Ring in the New Year in style with a 5-star stay at The Pearle of Cable Beach, before beginning the real adventure onboard the Coral Adventurer on the 1st of January. With a captains welcome drink on arrival, get ready for a remarkable experience across the top of Australia, from Broome to Cairns.
All the best unique Aussie spots can be ticked off your list on one of Australia's most popular expedition cruises. No matter if you're into exploring, relaxing or somewhere in between, Coral have something for you. Experience wildlife up close, birdwatching , hiking, diving, history, culture, waterfalls and mountain ranges, or stunning beaches and coral reefs…marvel at the grandeur that is Australia, served to you in luxurious style.
The time is NOW to book that Aussie adventure you've always been dreaming of. Book a no-worries call with one of our specialists today!
Choose from either Broome to Cairns, or put it in reverse and go from Cairns to Broome.
Itinerary
---
Day 1 Day 2 Day 3 Day 4 Day 5 Day 6 Day 7 Day 8 Day 9 Day 10 Day 11 Day 12 Day 13 Day 14 Day 15 Day 16 Day 17 Day 18 Day 19 Day 20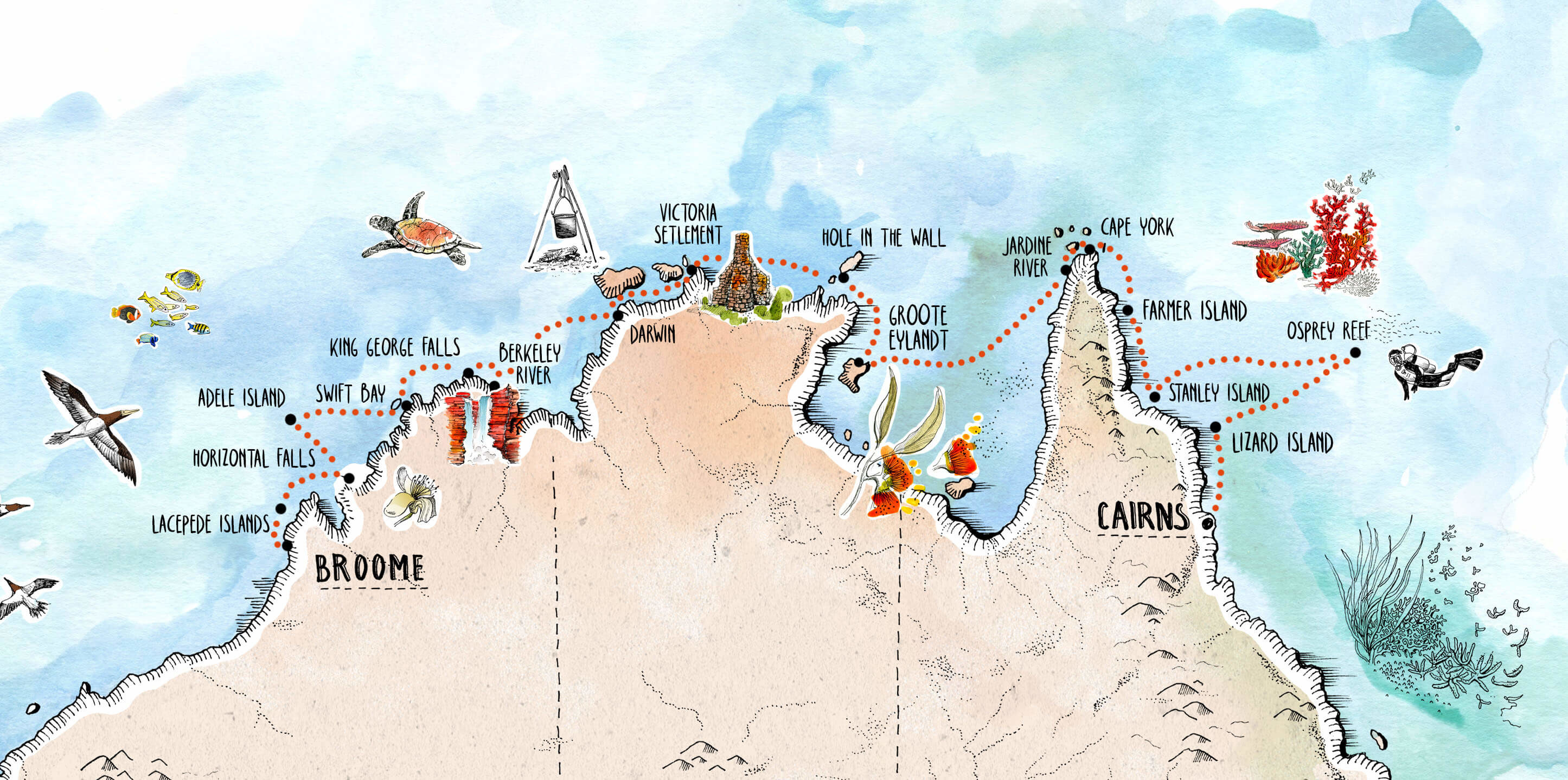 Day 1
Welcome to Broome!
What better way to end the year, than to spend it at the Pearle Cable Beach, Relaxing in style! Today you have free time to explore.
**For those opting for the Cairns - Broome departure, the itinerary follows in reverse.
Day 2
Depart Broome
Set sail at 5:00 pm and voyage north towards the Lacepede Islands. Enjoy a northern Australia sunset as you relax and meet your fellow travelers and crew at the Captain's Welcome Drinks.
Day 3
LACEPEDE ISLANDS
The Lacepede Islands provide an opportunity to discover the unique and vibrant habitats of these remote island groups. The low spits of coarse sand and coral rubble which make up the island do not support any trees, but the low scrubby vegetation provides sufficient cover for thousands of nesting birds. The Lacepedes are an Important Bird Area and Class A Reserve. Here, the breeding colony of Brown Boobies, up to 18,000 pairs, is possibly the largest in the world. They are also Western Australia's most important breeding habitat for green sea turtles, which can be spotted popping up for air throughout the lagoon. Enjoy more photography expeditions, birdwatching, and the chance to observe wildlife in its most natural habitat.
Day 4
HORIZONTAL FALLS & TALBOT BAY
Today we arrive at Talbot Bay, located in an almost enclosed, mud dominated gulf with some of the world's biggest tides, and host to some of the Kimberley's most unusual natural features. Also home to the remarkable Turtle Reef, spot an abundance of turtles, dugongs, crocodiles and a large variety of finfish. Also explore Horizontal Waterfalls – whilst not a true waterfall in the strictest sense, it is one of the only ways to describe this impressive phenomenon. Twice daily millions of litres of seawater cascades, hurdles and tumbles from one bank to another (and to another), through narrow gaps between two sets of sandstone massifs, coming to life along the iron-red faces of the McLarty Range. As the tide changes, water is forcibly pushed through the bottleneck, creating a rushing horizontal waterfall of swiftly flowing seawater. Experience a heart-pumping ride through the rapids aboard our Zodiacs.
Day 5
ADELE ISLAND
Located 150km off Cape Leveque, Adele Island is an A-Class reserve and Important Bird Area due to the volume of birdlife that breeds and winters here. The species list is generously long, including Wilson's Storm Petrels, White-winged Black Terns, Red-footed Boobies, Cormorants, and Pelicans. The shallow turquoise waters surrounding the island are also home to a multitude of fish, sharks, turtles, and stingrays which flock to the pristine coral reef system surrounding the island. Here, enjoy tender cruises through tidal channels to view bird and marine life.
Day 6
AT SEA: JOSEPH BONAPARTE GULF
Relax on deck as we spend a day at sea, with onboard presentations from our Guest Lecturers, with workshops, cooking demos and photo recaps of the trip thus far. Those with a keen eye might spot sea snakes, Wilson Storm Petrels and Brown Boobies, or even flying fish!
Day 7
KOOLAMA BAY & KING GEORGE FALLS
We arrive at Koolama Bay, where the impressive King George River is flooded by tidal waters. A cruise up the river gorge reveals steep-sided sandstone walls, eroded into honeycomb patterns, and inhabited by osprey and rock wallabies. King George Falls, swollen by seasonal rains, will present an awesome sight as it plunges 80 metres into the river below. Approach the thundering spray by zodiac and Xplorer and get close enough to gaze up the twin falls in wonder. The raw force of the raging wet season river is guaranteed to make you feel small. This remarkable river is of high cultural significance to the Balanggarra people, for who the falls are male and female rainbow serpents (Wunkurr).
**Note we cannot go ashore here due to Indigenous private land ownership.
Day 8
BERKELEY RIVER
The remote Berkeley River cuts through the eastern edge of the Kimberley, draining into Joseph Bonaparte Gulf. This immense river is home to many saltwater crocodiles, rock wallabies and other wildlife, and is known for its steep-sided gorge and many waterfalls. Today, enjoy a peaceful cruise through the river and gorge to spot wildlife, bathe under the waterfalls and take in the peace and grandeur of this isolated destination.
Day 9
DARWIN
We will clear into Darwin for Northern Territory border requirements.
Day 10
VICTORIA SETTLEMENT
The Cobourg Peninsula is part of the Garig Gunak Barlu National Park, which is known for its pristine wilderness, marine life, and complex cultural history. Today, it is virtually uninhabited, with 20-30 people living on scattered homesteads. However, in the 1830s the British government wished to establish a trading settlement in northern Australia. They made several attempts, at Port Essington, Melville Island, and Raffles Bay but these settlements were abandoned by 1849 due to scurvy, tropical diseases, and lack of supplies. Explore the ruins of Fort Victoria and hear the stories of the failed settlement in this harsh landscape, and take a walk to spot native bush tukka plants, butterflies, and insects. The wet season will have left flowers blooming, and on a beach walk, you may spot monitor lizards, crocodiles or sharks close to the water's edge.
Day 11
HOLE IN THE WALL, WESSEL ISLANDS
Enjoy a day at sea as we traverse the Wessel Islands and steam towards the Cobourg Peninsula. Travel through the narrow channel between Raragala and Guluwuru Islands, known as the 'Hole in the Wall', or Gugari Rip via our Xplorer vessels.
Day 12
GROOTE EYLANDT
Prior to European settlement, Groote Eylandt had been inhabited by Aboriginal people for thousands of years, and there had been regular contact between local Aboriginal people and Macassan traders, evident in the names of some of Groote Eylandt settlements, such as Umbakumba. Here we will experience a traditional welcome from a local group on Groote Eylandt, and visit art sites accompanied by an Indigenous ranger.
Day 13
AT SEA: GULF OF CARPENTARIA
The 560km wide Gulf of Carpentaria is a large shallow sea carved into the coastline of northern Australia. A large lake was located here during the last ice age, 18,000 years ago, but as sea levels rose the lake was subsumed into the Arafura Sea. As we cross the Gulf of Carpentaria, enjoy presentations on natural history by our guest lecturers and look for birds or flying fish as you relax on the deck.
Day 14
JARDINE RIVER
This morning, arrive on the banks of the beautiful Jardine River, on the western side of the Cape York Peninsula, one of northern Australia's most remote locations. This historic area has much Indigenous and exploration history. After breakfast, board the Xplorer to cruise into the mouth of the river. Zodiacs will provide a closer look at the estuary, with the opportunity to spot birds and wildlife.
Day 15
TIP OF CAPE YORK - 'PAJINKA'
This morning, enjoy an interpretive walk amongst the coastal rainforest of Australia's most northerly beach, Frangipani Beach, with the opportunity to explore the shoreline by Xplorer. In the afternoon, go ashore at the very tip of Cape York. This rocky promontory, fringed by islands, has an unexpected beauty in the afternoon light. Standing atop the rocks at Pajinka, as it is known by the first people of the area, is a rite of passage for many Australians. Celebrate with a glass of sparkling wine at this iconic location as you watch the sunset over the Gulf of Carpentaria.
Day 16
FARMER ISLAND & BAIRD ISLAND (PIPER GROUP)
Arrive at Baird Island this morning. We may be able to land ashore to see the seabird colonies on this remote island. Then travel across to nearby Farmer Island to explore the coastal landscape and swim from the sandy beach.
Day 17
STANLEY ISLAND
Today, visit Stanley Island in the Flinders Group National Park and part of the Great Barrier Reef Marine Park. The aboriginal name for this island is Yindayin. Here we will view the isolated Endaen Aboriginal rock art. Some of the most fascinating rock art in northern Australia, where some of the rock paintings depict the first sailing ships to visit Queensland shores. The rock art on Stanley, and neighbouring islands Flinders and Clack islands, is of international significance and is considered highly important; All sites are an irreplaceable record of Aboriginal cultures in this region. (Some sites are secret; such as Clack Island which allows no visitors).
Day 18
OSPREY REEF
One of the world's best dive sites, Osprey Reef is a submerged atoll in the Coral Sea. The top of a mountain which rises from the seafloor, surrounded by a vast ocean, draws many beautiful and rare marine creatures to its plummeting walls. Osprey Reef is a highly prized tropical dive location amongst scuba divers, called an 'oasis for living creatures of all kinds' by Sir David Attenborough. The vibrant corals and crystal-clear waters make it an unforgettable place to discover. Here we will spend time in the water exploring the 30m deep lagoon and drift diving the walls, where you may see large pelagic fish, rays, and sharks drawn in from the surrounding deep blue to enjoy the richness of this ocean oasis. Osprey Reef is a true expedition-style destination and our visit is subject to appropriate weather conditions
Day 19
LIZARD ISLAND
We spend a whole day at Lizard Island where there is time to hike to the summit of Cook's Look and enjoy the same view Lt. James Cook did when searching for safe passage through the maze of coral reefs. Snorkel over giant clam gardens from the beach at Watson's Bay, relax on the white-sand beach beneath shady she-oak trees, and learn about the tragic story surrounding Mary Watson. There may be an opportunity to visit Lizard Island Research Station, operated by the Australian Museum to facilitate coral reef research and education on the Great Barrier Reef. This evening reflect on your astounding journey through remote islands and atolls at the Captain's Farewell Drinks. Watch a remarkable Great Barrier Reef sunset as you conclude your cruise.
Day 20
ARRIVE CAIRNS
This morning arrive in Cairns at 7:30 am for an 8:00 am disembarkation.
Inclusions & Exclusions
---
Inclusions
Depending on departure: 1 night stay at the Pearle of Cable Beach or Shangri La Cairns
18-night cruise on the Coral Adventurer
All meals, chef-prepared onboard featuring regionally inspired "small batch" cuisine
Morning and afternoon tea daily
Tea and coffee are always available
Showcase wines, selected beers, juices, house spirits, and soft drinks served with lunch and dinner.
Daily room servicing and evening turndown service
Use of Xplorer, Zodiac tender vessels or glass bottom boats for excursions and sightseeing
Tours (may vary between ships)
Snorkelling equipment, masks, fins, and flotation vests (on selected itineraries)
Snorkelling excursions
Daily lectures and briefings from expert guides
All entrance fees to national and marine parks and ports
Use of comprehensive range of library and video resources
An introductory SCUBA diving skills session is available for first time divers (on selected itineraries)
Port taxes and government charges imposed by government authorities*
The itinerary is an indication of the destinations we visit and activities on offer. Throughout your northern Australia expedition, we may make changes to the itinerary as necessary to maximise your expeditionary experience. Allowances may be made for seasonal variations, weather, tidal conditions and any other event that may affect the operation of the vessel. The itinerary includes the possibility of interaction with wild animals and this interaction is subject to the presence of this wildlife on the day.
Exclusions
Child policy (4 to 18 years) Children are not permitted on this tour package.
Important notes:
We must receive your online booking form within 48 hours of booking to secure this package
A driver's license is required to be taken with you to board the cruise ship.
All guests must have travel insurance to participate on this tour and will be required to show this prior to departure.
Level of fitness: All participants should be in good general health, able to walk reasonable distances over sometimes uneven terrain, and stand during excursions.
All guests must be able to make their own way up and downstairs in case of emergency.
Covid19 policy: Guests must have a medical check 7 days prior to boarding and a PCR Test no earlier than 72hours – results of the PCR test to be shown to Coral Expeditions medical expert prior to boarding. No results, no boarding.
Cabin type
Coral Deck Stateroom
Route & Departure
31st December: Broome - Cairns
19th January: Cairns - Broome
Fancy upgrading your cabin?
Ask the team today about your upgrade options!