Description
---
Experience the Kimberley like never before, with a stay at the luxurious Pearle, Cable Beach in Broome before embarking on a luxury adventure cruise, travelling to some of the most unique destinations Australia has to offer.
The TRUE NORTH allows discerning adventurers to experience wilderness in surroundings more akin to one of the world's most exclusive hotels. Multiple adventure boats provide guests with greater opportunity to do "what they want, when they want" and, to add yet another dimension to adventure, most itineraries feature an onboard helicopter! The purpose-built TRUE NORTH is able to explore the upper reaches of shallow river systems – guests need only step out of their cabins to experience true wilderness.
Destination-inspired menus feature decadent dining with locally sourced ingredients, and cafe-style hot drinks are available all day. Guests are able to take advantage of a number of lavish vantage points including a sundeck, a forward observation lounge, a lounge and an alfresco bar. The naturalist presents interpretative information on wall-mounted screens in the lounge and the lower deck dining room offers the ultimate in comfort and uninterrupted vista – large panoramic windows ensure that guests never miss any of the action, even when they are enjoying the 'finest in fine dining. All cabins feature stylish décor, en-suite facilities, in-house entertainment and satellite telephones.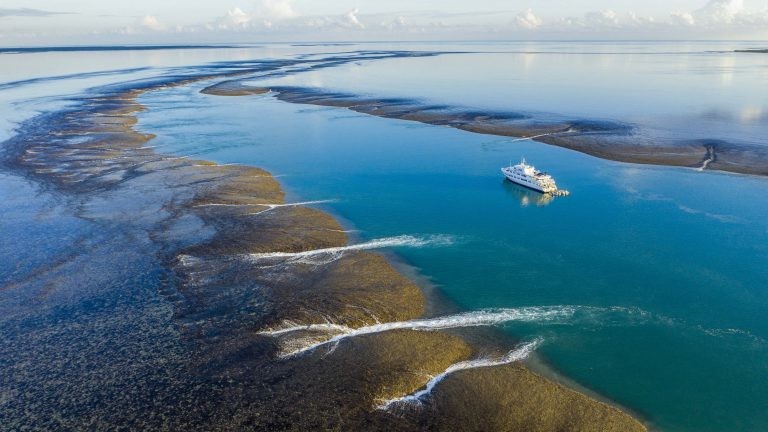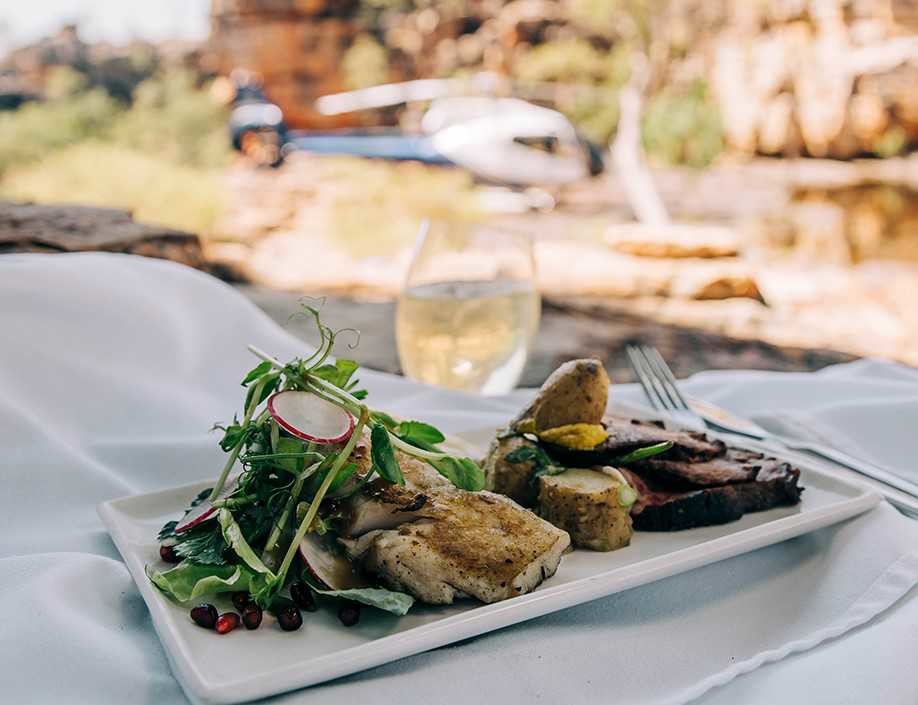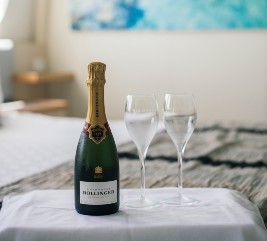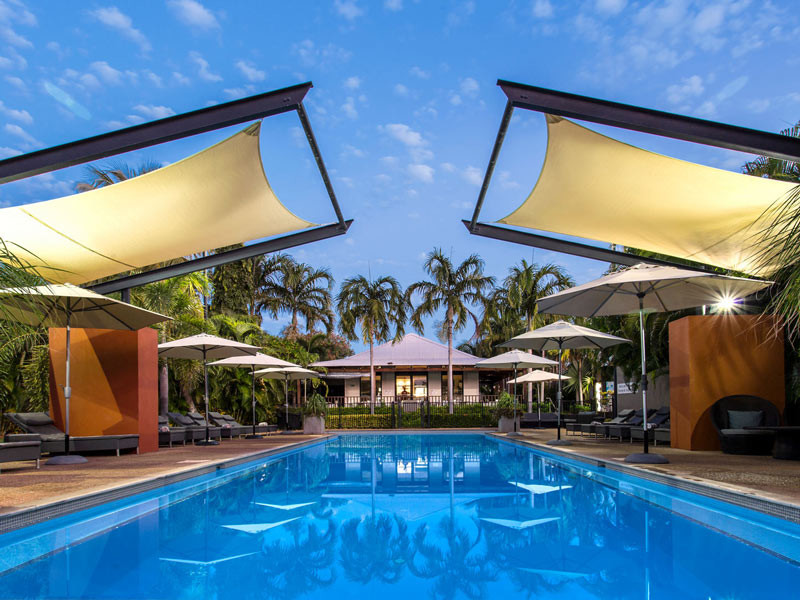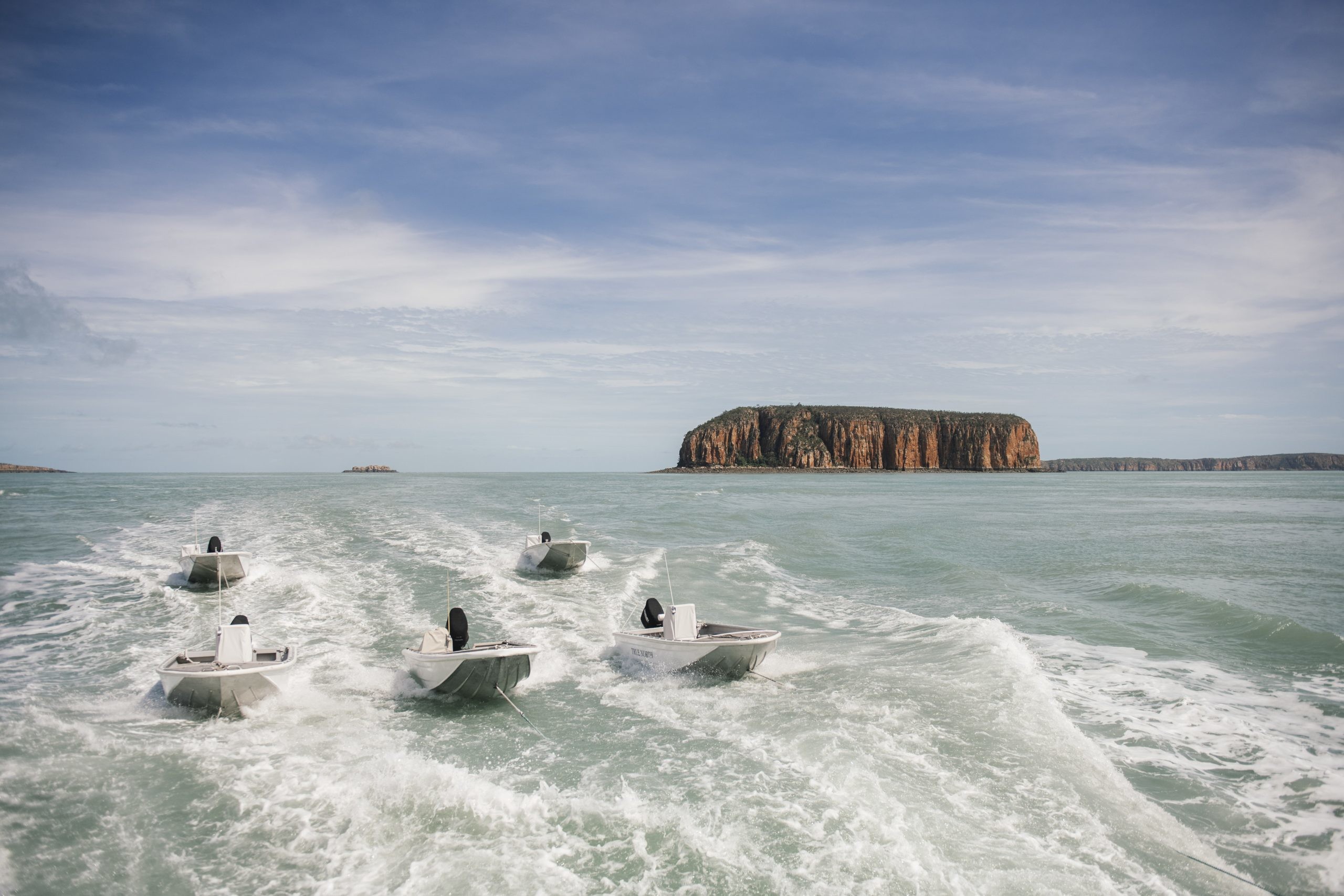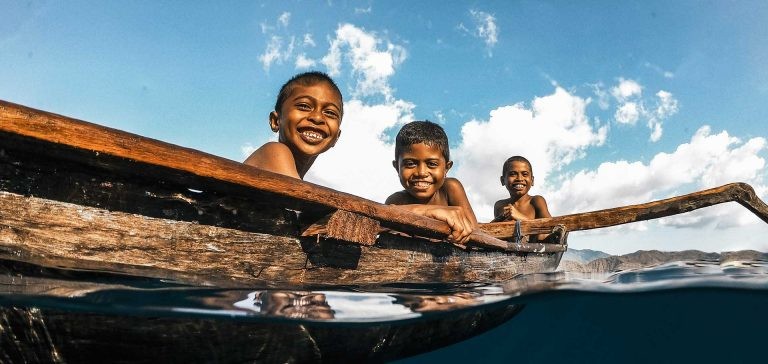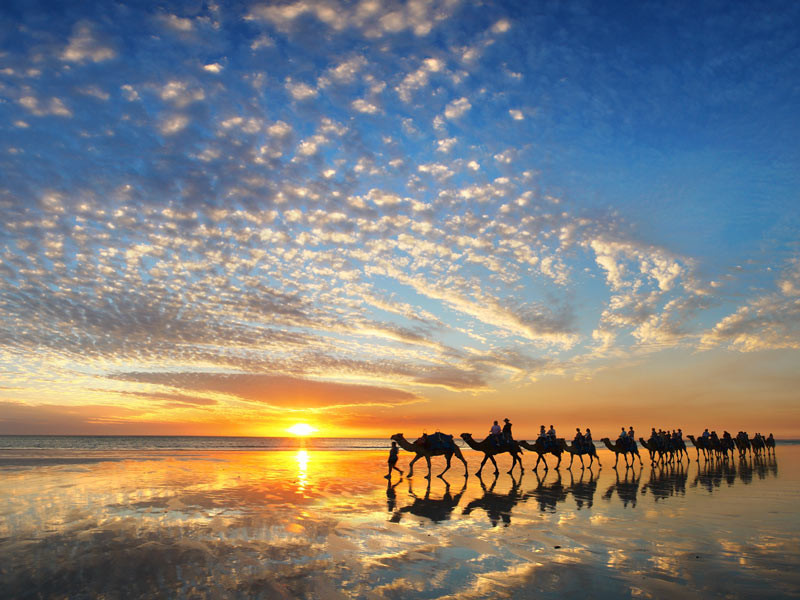 Itinerary
---
Day 1 Day 2 Day 3 Day 4 Day 5 Day 6 Day 7 Day 8 Day 9 Day 10 Day 11 Day 12 Day 13
Day 1
Broome
Arrive into Broome and check in to your gorgeous hotel: The Pearle, Cable Beach.
Accommodation: The Pearle, Cable Beach in a self-contained Pool Villa
Day 2
The TRUE NORTH
Transfers are included to the ship, where you will board in the late afternoon to enjoy a welcome evening including cocktails, before dinner. Enjoy your first night in your comfortable cabin, and get ready for the adventure of a lifetime.
Meals Included: Welcome cocktails, and then Dinner.
Day 3
Horizontal Falls
Awake to the majestic Kimberley and savour an irresistible TRUE NORTH breakfast as we glide past Cockatoo and Koolan Islands – our attentive crew will be happy to introduce the colourful histories of both! Then it's time to 'personally' introduce you to a Kimberley icon – The Horizontal Falls. Experience the awesome power of the region's huge tidal range in an exhilarating tender ride and then climb aboard your air conditioned helicopter for a view of the falls that very few experience! Take a refreshing swim and a walk on the squeaky white sands of Silica Beach. Before you know it, your first day onboard will be coming to an end – but there's still time to select a fi ne wine and to enjoy a leisurely evening meal as we head north to Saint Georges Basin.
Meals Included: Breakfast, Lunch & Dinner
Day 4
Princess Regent River
The scenery will astound and there are some not-to-be-missed fishing spots as the TRUE NORTH graces the majestic Prince Regent River. This morning's target species include delectable mangrove jack and fingermark bream. At King Cascade we will manoeuvre the TRUE NORTH right under the falls. Then it's time for more 'adventure in the tender' – a chance to stretch the laces on your hiking boots and an opportunity to swim in yet another picture perfect billabong, or perhaps you'd like to venture further upriver to visit the spectacular 'Amphitheatre' waterfall. The helicopter will be popular again when the f rst group of intrepid explorers returns from Jurassic Park!
Meals Included: Breakfast, Lunch & Dinner
Day 5
Picnic
Be amongst the first on deck and join an early morning fishing expedition, or see some stunning rock art or join the ship's naturalist in one of the adventure boats – and all before another breathtaking helicopter flight to a picnic that you'll never forget! The TRUE NORTH's mouthwatering cuisine alongside a crystal clear billabong – in one of the most remote places on earth.
Meals Included: Breakfast, Lunch & Dinner
Day 6
Hunter River
Wake this morning in the magnificent Hunter River. The Hunter is about as far away as you can get in Australia – a stunning river system that is lined with dense mangrove forests and surrounded by rainforest encrusted mountains. And, the Hunter has it all – fishing, mud-crabbing, bird-watching and simply exploring "where few have been before!" Join one of our adventure boats for a closer look, enjoy a challenging hike to Jackson Falls and, there's even more splendour from the helicopter! In the afternoon we will sail into Prince Frederick Harbour and enjoy sunset drinks on picturesque Crystal Beach. Enjoy some delicious hors d'oeuvres and watch the sun descend on another action packed day in the Kimberley.
Meals Included: Breakfast, Lunch & Dinner
Day 7
Montgomery Reef
It's time for some hot fishing action at Three Ways. Then join guest and crew alike for a moderate walk to Ruby Falls and be rewarded with a refreshing swim in the large natural rock pool. You will probably be enjoying lunch as we weigh anchor and set sail for Montgomery Reef! Montgomery is a unique eco-system that must be seen to be believed – and see it you will – as 140 square miles of coral reef rises out of the ocean right before your very eyes! Water cascades from the reef as the tide falls exposing a privileged glimpse of another world! Turtles, dugong, crocodiles and every imaginable sea creature abound, and the helicopter again puts all in perspective.
Meals Included: Breakfast, Lunch & Dinner
Day 8
The Charnley
Even more high adventure today – the opportunity to 'ride the tide' through spectacular Charnley Gorge, to where the salt meets the fresh – is one of the Kimberley's most hand-picked experiences! This is especially so if you then get a chance to sight-cast ravenous barra as they wait for the tide to spill into their billabong home away from home! Jacks, fingermark and threadfin will also be on the 'list' before returning to the TRUE NORTH for your overnight voyage to the magnificent Rowley Shoals.
Meals Included: Breakfast, Lunch & Dinner
Day 9
Clerke Reef
We will arrive early at glorious Clerke Reef. Sample the fruit platter and maybe indulge in a cooked breakfast before discovering the atoll's huge lagoon and extensive outer reef. Snorkellers and divers will marvel at the crystalclear waters teaming with life – clouds of fish and corals of every imaginable colour and shape. There will be plenty of opportunity for beach combing on Bedwell Island, relaxed snorkelling in tropical waist deep water, world class SCUBA diving on the outer reef or perhaps some "catch and release" lagoon fishing using eco-friendly tackle. Our qualified and experienced crew will be on-hand to personally introduce everyone to the delights of this pristine environment. When you're not on excursion, relax on-board TRUE NORTH and indulge in our renowned cuisine – the alfresco bar and lounge will definitely be 'the spot' to witness your first spectacular Rowley sunset.
Meals Included: Breakfast, Lunch & Dinner
Day 10
Rowley Shoals
Start the day with a visit to the Aquarium! Forget the Great Barrier Reef – this is world-class snorkelling at its very best! Even if you've never put your head under water before – this is an absolute must. The water is only waist deep however the experience is literally "out of this world"! Brilliantly coloured corals, giant clams and more than 600 of the world's most beautiful fish species at your fingertips! Don't forget your underwater camera! After another sumptuous lunch we'll "crankup the action" with something unique – high-speed snorkel drifts through the outer reef! Again our friendly crewmembers will be on hand to ensure that everyone gets to try this once-in-a lifetime experience – as many times as you like! Our anchorage tonight is in the "swimming pool like" waters of Clerke Lagoon – 300 kilometres off the coast of Australia.
Meals Included: Breakfast, Lunch & Dinner
Day 11
The Outer Reef
By now you will be addicted to snorkelling on the outer reef and your wish is our command! We'll spend the entire day exploring the outer reef of this remote and untouched wilderness. Then all too soon, it's time for our overnight steam to Broome. Re-live what is guaranteed to be an experience of a lifetime as the Rowleys merge into a blazing western sky! Join the crew at the Captain's Party and then enjoy "the best sleep of your life".
Meals Included: Breakfast, Lunch & Dinner
Day 12
Broome
Say goodbye and disembark from your ship, arriving back into Broome at around 8:00am.
Check back in to the Pearle, Cable Beach for your last night in beautiful Broome.
Accommodation: The Pearle, Cable Beach, in a self-contained pool villa
Meals Included: Breakfast
Day 13
Broome
Check out of your hotel, before heading home, or onwards to your next destination.
Inclusions & Exclusions
---
Inclusions
Pre and post cruise luxury Broome accommodation (2 nights) in a 1 Bedroom Villa at Pearle of Cable Beach Resort
10 night Kimberley and Outer Reef Luxury Cruise aboard their iconic vessel, the True North
All adventure boat excursions & activities aboard True North
All fishing & snorkeling equipment and cylinders & weight belts (on dive trips)
All destination-inspired dining and non-alcoholic refreshments throughout each day aboard True North
Complimentary café style coffees and tea refreshments available all day onboard
The True North's hospitality attendants will happily attend to your laundry needs
Transfers to and from True North
All on cruise professional guiding services
Exclusions
Airfares
Travel Insurance
Items of a personal nature, e.g. phone, gifts, souvenirs etc.
Scenic helicopter flights
Alcoholic beverages (except as offered on specific excursions)
Adventure wear and other purchases made on-board
Visitor Pass Fee
Important Info:
Upgrades: Different cabins are available - get in touch for a quote!
Dietary Requirements: True North can cater for a range of dietary requirements - please ensure we are notified before travel.
Departure Dates
---
Sunday 07 Nov 2021 ‐ Friday 19 Nov 2021